« back to waiting families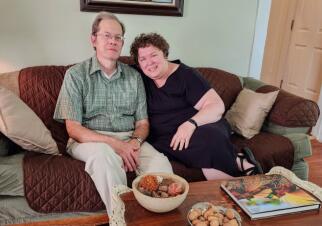 Stephanie & Timon
RACE OF CHILD INTERESTED IN ADOPTING:
Caucasian, Hispanic, Asian, Caucasian/Hispanic, Caucasian/Asian
---
Dear Birthmother,
Dear Expectant Mother,

Although we haven't met you yet, you are already one of the most important people in our lives. Your decision to consider us for sharing the incredibly precious gift of your baby has already made such an enormous difference. We are happy with our lives, but there is a gap there we have never been able to fill ourselves, a gap that might finally be filled through your enormous, amazing generosity.

We can't even imagine what kind of emotions you must be feeling right now or what kind of challenges you have had to overcome to get to where you are. But we admire you so much for making such a brave, selfless decision, and we would like you to know we want to share as much of this journey with you as you are willing to share with us.

We also want you to know that if you choose to share this amazing gift with us, we will give your baby the very best home we can possibly give him or her, and we guarantee that no baby is going to be more loved or cherished or better taken care of.

We can't wait to start this journey with you!
Stephanie and Tim
---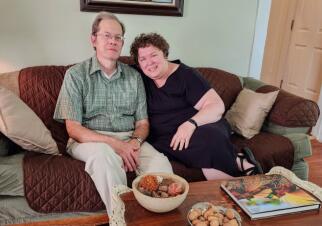 About Us
Hello! We would like to take a minute to tell you more about our family. We have been married for eleven years, and for the past seven years, we have been enjoying the small town life in northwest Arkansas. Stephanie is a special education teacher; she has been working with high schoolers with disabilities at the high school for five years now and LOVES her job. Tim is a tax preparer with a local agency and is also a passionate amateur genealogist. He loves to dig into family history, and we often go on trips so he can do hands-on research. Northwest Arkansas is blessed with a lot of natural beauty from the Ozark Mountains and the Buffalo National River, and we spend a lot of time outdoors hiking, birdwatching, and gardening. We would love to share the beauty of this place with a growing child!
---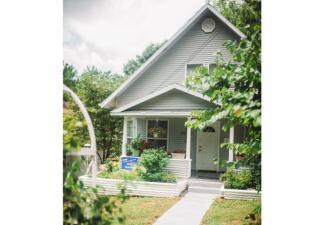 Our Home
We always wanted to buy an old house and fix it up, and for the past seven years now, we have been restoring a little cottage near our historic downtown. We have a garden full of roses, vegetable beds, and flowering trees, but we still have plenty of room left for a swing set and sandbox! Our town is small enough to have an easy pace of life but large enough to have amenities like a hospital and a community college. Our downtown is complete with a museum, a restored historic theater, and a good library, and
our local school district is one of the best rated in this area. We are close to the Buffalo National River, which offers some amazing opportunities for a child to go hiking, go camping, and just get out and enjoy nature.
---
Our Extended Family
Family is important to us, and the reason we bought our house where we did was to be closer to our relatives. Tim's mother, father, and older brother all live half an hour south of us, and we spend holidays between their house and ours. Stephanie's cousin also lives nearby and has dinner with us frequently. Although her large extended family is farther away (Stephanie was raised in a very small town in central Michigan), we still make time to visit.

Once school gets out each May, we take part of the summer to spend time in her hometown. Stephanie's younger brother lives there, among others, and we are very close. He is looking forward to becoming an uncle. Our family is very excited about us going through the adoption process!
---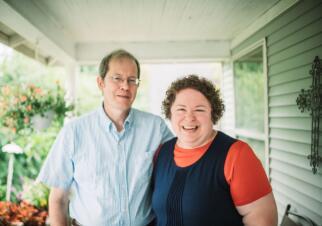 What Led Us To Adoption
We began to talk about starting a family the day we got engaged. We still want to start a family more than anything in the world, but after eleven years and two fertility clinics' worth of trying, we have both realized our happy ending is just going to look different from what we imagined it would be when we first got married. This will be our first time to adopt, but several people we know have also gone through this process. We have seen firsthand how much love and joy there can be in this process.
---
Facts About Stephanie
Occupation:

Special Education Teacher

Religion:

Other Religion

Education:

Master's degree

Favorite Food:

Indian food

Favorite Hobby:

Birdwatching, gardening

Favorite Movie:

His Girl Friday

Favorite Sport:

Hiking/walking

Favorite Music Group:

Loreena McKennett

Favorite TV Show:

Lost

Favorite Vacation Spot:

Galapagos Islands
Facts About Timon
Occupation:

Tax Preparer

Religion:

Other Religion

Education:

Bachelor's degree

Favorite Food:

Anything sweet

Favorite Hobby:

Birdwatching, genealogy

Favorite Movie:

The Christmas Carol

Favorite Sport:

Hiking/walking

Favorite Music Group:

Altan

Favorite TV Show:

Dr. Who

Favorite Vacation Spot:

Patagonia
Contact Stephanie & Timon