« back to waiting families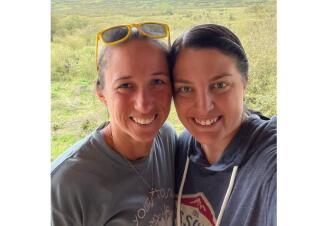 Sheriden & Stephanie
RACE OF CHILD INTERESTED IN ADOPTING:
Caucasian
---
Dear Birthmother,
Dear Expectant Mother:

We are so grateful you would consider us to be the parents of your child. We can't begin to know what you're feeling as you work through such a difficult and personal decision. However, we want you to know we see this decision as one of the most selfless acts anyone could ever do, and we believe it takes an extremely strong person.

We respect you as a mother, and your story is important to us. If you choose us, your child will always know about you, and we hope that in time, you can share your story with them from your perspective. We want your child to understand their full history and culture, and that begins with you.

Adopting a child is something we have always wanted and been excited about. We want to add to our family and recognize the courage it must take to make such a decision. We want you to know that if you choose us, we will raise your child with patience and love, teach them honesty and respect, and encourage them to follow their dreams. We will create lasting memories and traditions, travel, and introduce them to the great outdoors. If you choose us, your child will have a wonderful support system and will be absolutely adored by their adoptive grandparents, aunts, cousins, and other extended family members. We hold our family extremely close, and your child will be welcomed and loved in this family.

All the best,
Stephanie and Sheriden
---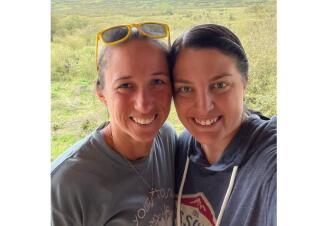 About Us
We are Stephanie and Sheriden. We met on the volleyball court as coaches in 2011 and became fast friends. We married a few years later in 2018, and thus our family was born! Stephanie has an interior design background and currently works in sales. She is a driven, caring individual who enjoys cooking and hosting friends and family in our home. Sheriden has a love of animals and works as a zookeeper. She is hardworking and very active, enjoying hiking and mountain climbing. Together, we really enjoy being in the mountains and traveling to new places. We hike, go camping with friends, and snowshoe close to home. When traveling away from home, we love to explore and learn about new places, people, and cultures. We look forward to growing our family and introducing them to the wonders of the outdoors and new places in the world!
---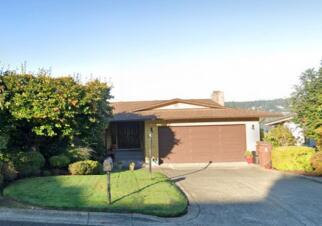 Our Home
We recently moved back to Stephanie's hometown in Washington. We live within ten minutes of Stephanie's parents and sister, most of our extended family, and great friends. Our five-bedroom house is in an established neighborhood with access to diverse communities and schools. Our house looks out onto the water of the Puget Sound with the Olympic mountains behind it. We love to sit on the deck or around the fire pit watching the sunsets with our three fur babies: two cats, Penny and Mace, and our dog, Finn. On the weekends, we like to escape to our cabin in the mountains. It is our "every season" retreat to get away from the hustle of the work week.
---
Our Extended Family
Sheriden grew up in Kansas with her parents and siblings. She is the second daughter in the family, with an older sister and a younger brother and sister. She has close relationships with each of her siblings as well as her cousins, who are all around the same age. Her older sister has two kids, and her two closest cousins also have young kids. We are excited to have our child grow up with lots of cousins like we did. We travel to Kansas a few times each year to enjoy family barbeques, holidays, and Chiefs football games.

Stephanie grew up in Washington with her parents and younger sister. She is also the oldest of her six cousins on her mom's side. Her family is very close, and we often get together with them on weekends or at the family beach house in the summer. We have fun family traditions, including our Family Weekend each summer, where everyone returns home to play backyard games in the "Family Olympics."

Stephanie's parents are extremely excited at the possibility of being adoptive grandparents. Sheriden's siblings are very supportive and ecstatic about adding to the family!
---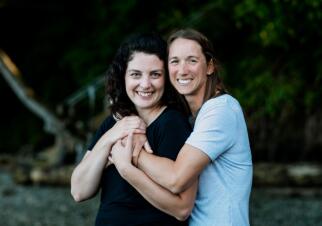 What Led Us To Adoption
Adoption has always been how we wanted to begin our family, especially being a same-sex couple. We have a close friend who was adopted as a child, and speaking with her and witnessing her relationship with both her birth parents and adoptive parents is an example of how we hope to guide and support our child. We are a loving and supportive family, and we want to share that with a child. It is our hope that we can be loving parents who help your child discover who they are and where they came from and then guide and support them toward who they want to become in the future. We can't wait to share our home and build our legacy together as a family.
---
Facts About Sheriden
Occupation:

Assistant Curator/Marine Mammal Trainer

Education:

BS in Marine Biology

Favorite Hobby:

Hiking, mountain climbing

Favorite Movie:

Jurassic Park

Favorite Sport:

Volleyball, football

Favorite Holiday:

Halloween

Favorite Music Group:

Jay-Z, Maren Morris, Kendrick Lamar

Favorite Subject in School:

Marine biology, gym class

Favorite Vacation Spot:

African safari
Facts About Stephanie
Occupation:

Commercial Furniture Sales

Education:

BA in Interior Design

Favorite Hobby:

Cooking, hosting friends and family

Favorite Movie:

Hamilton

Favorite Sport:

Volleyball, golf

Favorite Holiday:

Christmas

Favorite Music Group:

Beyonce, Adele, Justin Timberlake

Favorite Subject in School:

English, math

Favorite Vacation Spot:

Australia
Contact Sheriden & Stephanie