« back to waiting families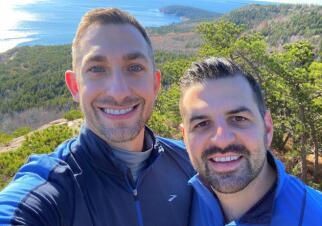 Michael & Ryan
RACE OF CHILD INTERESTED IN ADOPTING:
Caucasian, Asian, Caucasian/Hispanic, Caucasian/Asian, Native American
---
Dear Birthmother,
You are very courageous in considering this decision for you and your baby. We understand choosing a family to raise your child will be one of the most difficult decisions you will make, but we want you to know that if you choose us, we will ensure your child grows up in a loving, nurturing home that embraces their unique personality and supports them in the pursuit of their dreams.

We will both work tirelessly to provide your child with every opportunity to grow, learn, and succeed. They will always come first in our lives. They will have freedom to express their creativity and unwavering support to confidently pursue their passions, and they will always have their two biggest fans on their side. We will love them with all of our hearts and will make sure they know how important they are to us each and every day. We are excited to share in the big memories, such as vacations, holidays, and major milestones in their life, and also can't wait for the little moments together, like reading books, baking cookies, and family dinners. We can guarantee our home will be filled with a lot of laughter, excitement, and, most of all, unconditional love.

Thank you for taking time to review our profile and for considering us to be the parents of your child. Without you, our dreams of being parents could never become a reality, and we would be extremely honored and grateful to have your baby become a part of our family.
.

With love,
Mike and Ryan
---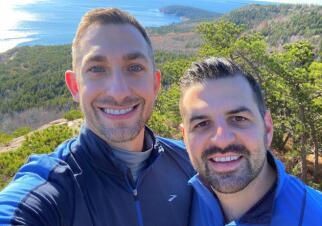 About Us
We are Mike and Ryan! Our journey together began when we met and became friends in 2012. Five unforgettable years later, we tied the knot in front of 200 of our closest friends and family. Mike is hardworking, caring, enthusiastic, and always ready to plan our next adventure. Ryan is passionate, charismatic, and ambitious, and he loves cooking for friends and family. Mike is the Vice President of Corporate Projects for a non-profit organization whose mission is to empower individuals with intellectual disabilities, while Ryan is the Senior Manager of Talent Development for the largest automotive retailer in the region. We love taking walks with our new puppy in our historic neighborhood, exploring our city, and traveling the world. We are passionate about giving back to the community and spending time with family and friends. When at home, you can find us cooking together and relaxing with our two cats.
---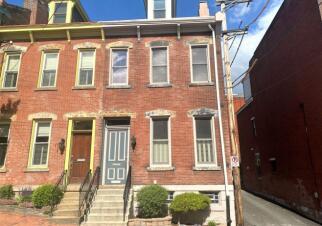 Our Home
Our home is located in a charming, historic, and diverse neighborhood near the city, complete with cobblestone streets and great neighbors. We are within walking distance of many parks, museums, and attractions. Our home was built in 1883 and has a lot of history and charm. We have taken great pride in renovating it to make sure it is a warm and welcoming place to raise a family. We have two amazing rescue cats in our family. Raven is calm and always ready to cuddle up for a long nap. Spencer loves making friends and getting into mischief. We also recently welcomed a new puppy into our home named Koda. She adores meeting new people and exploring the neighborhood. They're all very loving, and we know they will be extremely excited to welcome a new brother or sister into our family!
---
Our Extended Family
We are very close with our families and value their full support and love during our journey to adopt. Ryan's family is nearby, and we frequently see his parents, his two sisters and their families, and his brother and his family. We have eight amazing nieces and nephews on Ryan's side. We are extremely excited for our future child to grow up with them and have them as role models. Mike's parents live an hour and a half away and are thrilled to spoil their grandchildren. Mike's sister and brother-in-law live a few hours away, and we regularly visit to spend time with them and our newest nephew. Furthermore, Mike has a very large extended family who get together regularly for holidays and summer picnics.
While we have many family traditions, some of our most valued traditions include our annual family vacation to the beach, theater performances during the holidays, cookouts during the summer, and getting together with our family to celebrate birthdays and holidays. We are very excited that our child will experience the same traditions we grew up with while surrounded by a loving, supportive family.
---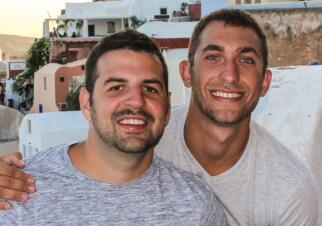 What Led Us To Adoption
Our desire to become fathers and raise a family has always been important to us, both individually and as a couple. We have not taken this process lightly, and through a lot of research and discussion, we found adoption is the best way for us to grow our family. We are fortunate to have family and friends who have grown their own families through adoption, and we have been able to witness firsthand the immense amount of love and joy adoption brings. With the support of our incredible family and friends, we are thrilled to begin this next chapter of our family through the process of adoption!
---
Facts About Michael
Occupation:

Vice President, Corporate Projects

Religion:

Christian

Education:

Master of Business Administration

Favorite Food:

Middle Eastern

Favorite Hobby:

Volunteering, traveling

Favorite Movie:

Harry Potter films

Favorite Sport:

Running, skiing

Favorite Holiday:

Christmas

Favorite Music Group:

Billy Joel, Elton John

Favorite TV Show:

The 100

Favorite Book:

The Last Lecture

Favorite Subject in School:

Math

Favorite Vacation Spot:

Australia and New Zealand
Facts About Ryan
Occupation:

Senior Manager, Talent Development

Religion:

Christian

Education:

Master of Human Resource Management (2023)

Favorite Food:

Italian

Favorite Hobby:

Gardening, cooking, traveling

Favorite Movie:

Jurassic Park, Titanic

Favorite Sport:

Golf, running

Favorite Holiday:

Thanksgiving

Favorite Music Group:

Frank Sinatra

Favorite TV Show:

Seinfeld

Favorite Book:

The Tipping Point

Favorite Subject in School:

Language arts

Favorite Vacation Spot:

Italy