« back to waiting families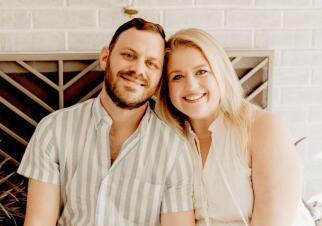 Jourdan & David
RACE OF CHILD INTERESTED IN ADOPTING:
Caucasian, Caucasian/Hispanic, Caucasian/Asian, Caucasian/African American
---
Dear Birthmother,
Thank you for taking the time to learn about our family and for considering us as adoptive parents. While we cannot imagine how difficult this decision must be, we want you to know that if you choose us, your baby will join a loving home with parents who have always dreamed of adopting and family and friends who can't wait to welcome them into their lives.

Adoption has always been a part of our plan to grow our family. We are both lucky to have families who support and nurture us and have been there for us our entire lives. It is our dream to share that love and support with our future child and to provide an environment full of learning, exploration, and new experiences. Each step of this process has only affirmed how thankful we are to be able to bring a child into our lives.

We cannot begin to fathom the sacrifice you are making, but we can promise that if you choose us, your baby will be loved and cherished. They will have parents who adore them, grandparents who spoil them, and countless friends and family members who will always be there for them. They will receive a great education, they will see the world, and they will be encouraged and celebrated. If you choose us, we will love this child and strive to set them up for a lifetime of success and happiness.
With Love,
David and Jourdan
David & Jourdan
---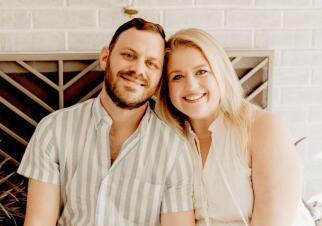 About Us
​​Hi, we're Jourdan and David! Who are we? It's hard to answer in one paragraph, but here goes nothing! We're married and animal lovers with two cute dogs. We work from home, but we're also active and love to travel. Domestic or international, we're up for any destination and can't wait to have a little travel buddy to share our adventures with! On weekday nights, Jourdan makes dinner and sings to our dogs while David assists and tries not to get in the way! On weekends, we're either at the gym or spending time with our friends and family. No matter what, we're always laughing. Some embarrassing things we should get out of the way: Jourdan's clumsy and constantly says, "Ouch," while David, who loves projects, often bites off more than he can chew! Most importantly, we can't wait to add to the awesomeness that is our little family.
---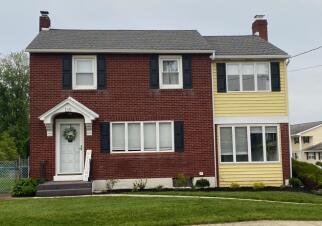 Our Home
Our home is full of love but also full of projects! We bought our house from Jourdan's grandparents and gave it a complete renovation. It's in the perfect location; Jourdan's mom can pop in with homemade goodies, and her dad can help David with DIY projects. In the summertime, we love floating in our pool, playing games, and entertaining with David's delicious cheeseburgers! We love going to the local trails, visiting the brewery down the street, and enjoying the charm of our community. Our house wouldn't be a home without our furbabies, Ranger and Kona, and let's be honest, they just let us live there. Right now, our main project is decorating our nursery and debating whether we want a flamingo or narwhal theme!
---
Our Extended Family
Family and friends mean everything to us. Jourdan's family lives close. We babysit her nieces regularly, which we love. Her family has many friends who are more like family. It's not uncommon to go to her parents' house and discover a party with 20 of their closest friends. Jourdan's favorite tradition is spending July 4 at the Jersey shore. Ever since she was a baby, she has spent two weeks with her family enjoying the beach and celebrating the holiday together. Jourdan has kept friends for years. With the number of weddings we've attended, David has become a professional plus one!

David's family lives farther away, but we love packing up the dogs to visit. His family has many holiday traditions, including their annual pizza party after Thanksgiving and their creative themed Hanukkah gift exchange. We've taken many trips together, including to Napa Valley, Acadia National Park, and Portugal! We chat about his mom's love of cooking, David and his dad's shared love of classic rock and playing guitar, and Jourdan and David's sister's reality TV obsession. David's friends live all over the country, but complaining about their favorite sports teams always brings them together.
---
What Led Us To Adoption
For as long as she can remember, adoption has been part of Jourdan's plan to grow her future family. Since we started dating, we have talked about adoption and cannot imagine our lives without a child. One of Jourdan's best friends was adopted, and David grew up with close family friends with two adopted children. Both of us are passionate about building a family full of love. We are extremely lucky to come from loving families who have always supported and nurtured us, and we can't wait to share that with our future child. .
---
Facts About Jourdan
Occupation:

Senior Recruiter

Religion:

Christian

Education:

Bachelor of Arts

Favorite Food:

Sushi, ice cream, watermelon

Favorite Hobby:

Working out, reading, traveling

Favorite Movie:

Almost Famous

Favorite TV Show:

Game of Thrones

Favorite Book:

The Great Gatsby, All the Light We Cannot See

Favorite Subject in School:

Spanish

Favorite Vacation Spot:

African safari
Facts About David
Occupation:

Director of Policy

Religion:

Jewish

Education:

Master of Public Policy

Favorite Food:

Pizza, steak, Oreos

Favorite Hobby:

Playing guitar, running, traveling

Favorite Movie:

Billy Madison

Favorite TV Show:

Yellowstone

Favorite Book:

Team of Rivals, The Road to Camelot

Favorite Subject in School:

Government, history

Favorite Vacation Spot:

Patagonia