« back to waiting families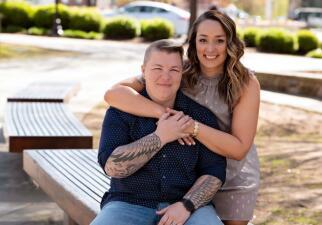 Erin & Mary
RACE OF CHILD INTERESTED IN ADOPTING:
Any
---
Dear Birthmother,
First, please know we understand this isn't an easy decision, and whatever route you take, you are doing what is best for your baby. We as a couple have always loved children and have always known we wanted children. Mary's dad was adopted, and we see the way it changed his life, especially once he was able to reconnect with his birthfamily. We are open to any level of communication you are comfortable with. While we aren't able to have biological children, we are grateful for mothers like you who can help us make our dream of becoming parents a reality.

We can't imagine the strength it takes for you to consider an adoption plan for your precious baby. We look at you as a strong woman making a decision that is going to benefit so many lives, not just your baby's. We thank you in advance for even thinking of this option for your child and for considering us as adoptive parents.

If you choose us, you will always be the mother who was able to help our family grow and the mother of your child you carried. We do not wish to take any of that from you but want to welcome you into our family as well at any level you are comfortable with.

Thank you for reviewing our profile. We wish you nothing but the best, and we hope to learn more about you and meet you.
---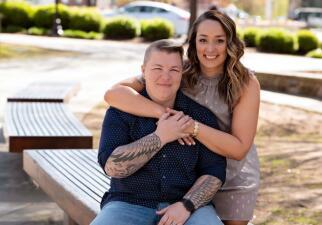 About Us
We met at a local restaurant on a Tuesday night through mutual friends. Our personalities mesh very well together as we complement each other in all ways. Mary serves her community in public service, and Erin is a local real estate agent. While spending time together and hanging out with our three dogs, we enjoy spending time with family and going to the beach. We both are very close with our families and try to spend as much time with them as we can. We like taking our dogs to the dog park or to Lowe's. They love the attention they get from people, and people love them. We like to cook out at home, eat outside, and sit by the fire and listen to music.
---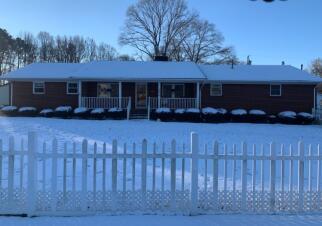 Our Home
We live in South Carolina, nestled in a small town that is rebuilding the small town feel. Our home was built by Erin's grandfather and was the house her mother was raised in. We have a three-bedroom, two-bath house with a fenced-in yard. We enjoy having friends and family over to have cookouts in the backyard. We have three dogs that are treated like royalty, two great Danes and one chihuahua. Brody (brown Dane) is seven years old, Braxton (black and white Dane) is six years old, and Bristol (chihuahua) is one. Each of them have their one personality, and we enjoy taking them on nightly walks through the neighborhood or to enjoy a weekend at the beach.
---
Our Extended Family
We are very close to both sides of our families. We are very fortunate to live within driving distance of both our families, and they are very active in helping if we need it with our dogs or just to spend time with.

Erin speaks with her mom several times a week. She remarried just over a year ago, and we have enjoyed getting to know our new extended family. She speaks with her dad at least once a week, and he is very active in helping us with anything we need to fix up or adjust in our home. She has one brother, who lives close by. Her grandmother lives in an assisted living home within an hour of us, and we go to see her as often as we can.

Mary speaks with both her parents several times a week. They live just across a field from her grandpa, so we get to see him often. Her mom's family lives within a few minutes of each other, and we enjoy getting together with them for special occasions or a Friday night dinner. She has one sister, who lives two hours away and will come home for special occasions also.
---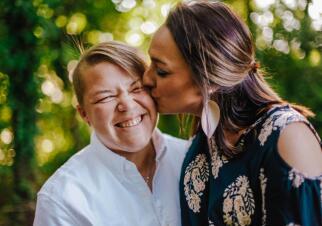 What Led Us To Adoption
We wanted to become parents before we were ever married. Adopting has always been an option for us, and knowing Mary's father was adopted confirmed that even more. We want to grow our family not only for ourselves but to help educate others that having different types of families in the world is what makes the world a more accepting and beautiful place. We have seen our friends foster to adopt, and the way it has impacted their lives and their children's lives is truly special and loving. That is something we long to experience.
---
Facts About Erin
Occupation:

Real estate agent

Religion:

Christian

Education:

Bachelor's degree

Favorite Hobby:

Working out, crafting, swimming

Favorite Movie:

The Shawshank Redemption, Rent

Favorite Sport:

Dance, soccer, swimming

Favorite Holiday:

Christmas

Favorite TV Show:

Friends, Grey's Anatomy

Favorite Subject in School:

Art, history

Favorite Vacation Spot:

Camping through all the state parks
Facts About Mary
Occupation:

Public Service

Religion:

Christian

Education:

Associate's degree

Favorite Hobby:

DJing, working out, hanging out with family/friends

Favorite Movie:

The Greatest Showman, Elf

Favorite Sport:

Swimming, BMX, band

Favorite Holiday:

Christmas, Halloween

Favorite TV Show:

Chicago PD, Forensic Files

Favorite Subject in School:

English

Favorite Vacation Spot:

White sandy beaches in FL.