« back to waiting families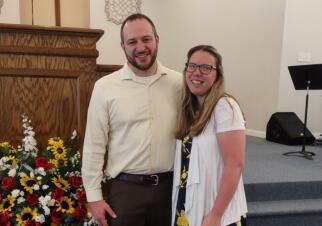 Mary & Dustin
RACE OF CHILD INTERESTED IN ADOPTING:
Any
---
Dear Birthmother,
We want you to know how much we admire and respect you. We know how much you love your child and that you're considering this brave and selfless choice out of love.

When our daughter was born, we started a journal where we write about milestones, funny things she said, or a little update on what is happening in our lives. We end each one with a quote, a small devotion, or an inspirational phrase. We will give it to her when she is older. We have already started one for our future child, and we will make sure they know their mom is the first page of their amazing story. We are excited to fill this journal with details about adventures we take, how we joined family at the river for a cookout and games, and how we spent hours decorating the house for Christmas, making handmade ornaments and garland.

We will make sure we teach love and kindness and how to be confident and strong. They will be welcomed, loved, and cherished not only by us but by our large family, friends, and church family. We will make sure they are provided educational opportunities to learn and grow, and we will foster their dreams. We will teach them to love and know they are loved by us and you. We will encourage them to try new things and to not take for granted the small things in life. Lastly, we will have fun and laugh and smile together.
---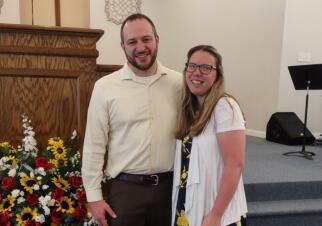 About Us
Mary is a pharmacist and loves being able to serve her patients. Dustin is an executive director for a pro-life organization, and he loves encouraging the next generation in the pro-life movement. We have been married for eight years and have known each other for 14 years. We are blessed to have a seven-year-old daughter. She is kind, nurturing, always smiling, and excited to be a big sister. We met while in college and are best friends who share in each other's joys, sadness, celebrations, disappointments, and lives. We enjoy little family getaways, whether just for a day or a weekend. We try to keep each other laughing and making the best of life, but we also know how to read each other when we might be encountering a bump in the road and face it head on together.
---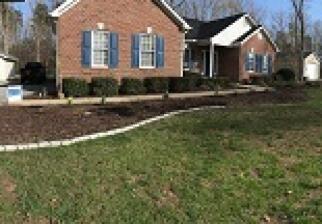 Our Home
We live in a four-bedroom, two-bathroom rambler located on two acres in Virginia. We have spacious front and back yards that are great for playing and feature a playhouse, disc swing, basketball hoop, and volleyball net in addition to a back deck. Our neighborhood is private with only eight houses total. We are excited to go to the playgrounds and bike rides on the scenic pathways. The mountains and beach are both a short drive away for fun and adventures. We have a pup named Carson. He has a very mild temperament. He is very loving, loves cuddles and playing with toys, and is the happiest when all of us are home together sitting on the couch.
---
Our Extended Family
We both have larger extended families that we are in touch with on a regular basis. In the summers, one of our traditions is gathering with cousins and family in the mountains on long weekends for cookouts and river floats. We try to do family dinners with a group of extended family at least once a month; oftentimes we use this as a chance to celebrate birthdays or achievements or to just catch up and enjoy each other's company.

Around Thanksgiving and Christmas, we make sure we spend time with both sides of the extended family. While our traditions focused around these two holidays have changed over the years as the family has grown, we still enjoy doing things such as having a big Christmas breakfast and dinner and sharing stories and laughs. We also love watching old home movies or looking at photos and talking about adventures. Our family is very excited about us growing our family and even making new traditions.
---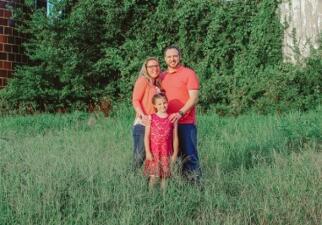 What Led Us To Adoption
After the birth of our daughter, we were advised for health and safety reasons to not conceive again. We each have the pleasure of knowing the beauty of growing a family through adoption by personally knowing a cousin, friends, and others who are adopted. We have seen how adoption can provide hope, love, and special bonds for everyone involved. We feel extremely blessed to have our daughter and feel strongly that God has led us in making adoption a part of our family journey. We each had a sibling growing up and know how special that bond is in a family. We have a lot of love and hope for the future in seeing how adoption will grow our family.
---
Facts About Mary
Occupation:

Pharmacist

Religion:

Other Religion

Education:

Doctorate of Pharmacy

Favorite Food:

Grilled chicken and vegetables

Favorite Hobby:

Cooking (learning new recipes), hiking, river tubing

Favorite Movie:

Sweet Home Alabama

Favorite Music Group:

Chris Stapleton

Favorite TV Show:

Justified, Sweet Magnolias

Favorite Subject in School:

Science

Favorite Vacation Spot:

Anywhere in the Appalachian Mountains
Facts About Dustin
Occupation:

Executive director

Religion:

Other Religion

Education:

Bachelor of Science, Bachelor of Arts, Certificate in Coaching

Favorite Food:

Steak

Favorite Hobby:

Outdoor recreation

Favorite Movie:

Gran Torino

Favorite Music Group:

AC/DC

Favorite TV Show:

Justified, Scrubs

Favorite Subject in School:

P.E.

Favorite Vacation Spot:

Smoky Mountains