« back to waiting families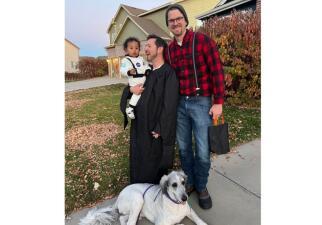 Jonathan & Trevor
RACE OF CHILD INTERESTED IN ADOPTING:
Caucasian, Hispanic, Asian, Caucasian/Hispanic, Caucasian/Asian, Caucasian/African American, African American, African American/Hispanic
---
Dear Birthmother,
Dear Expectant Mother,

We are humbled by your consideration of us as parents for your child. We can't begin to imagine what you must be going through, but we can only assume this has been a very difficult and emotionally challenging decision to make. Our family has grown recently with our baby boy, Zev, and as every day passes and he grows older, we pray he can have a sibling in his life soon and we can have another child to love.

The relationship between siblings is a special one. The bond is strong, and we're hoping we can grow our family not just for ourselves but for him. Our whole world is about our family now, and the amount of joy and love that has grown is incredible. We waited for almost five years for our first adoption and have been on an emotional roller coaster. This is nothing compared to the emotions you must be feeling though. We only hope you think of us and consider us to raise your child with support and unconditional love. Grandparents, uncles, aunts, godparents, and family friends are all waiting to support our small family as it grows.

Stay strong, and be kind to yourself during this time. We hope you're able to reach out for support and surround yourself with family and friends that give you courage. We would be honored to support you at any level you're comfortable with too. If your decision aligns with our hopes and dreams, we would be forever grateful and always tell your story. We admire and respect you.

With gratitude and sincerity,
Jon, Trevor, and Zev
---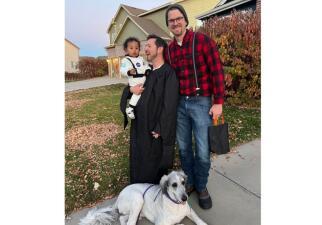 About Us
We have been together for almost 15 years! We also recently celebrated our ten-year wedding anniversary. Trevor is a high school history teacher, and Jon is an adolescent psychiatric nurse practitioner. We both love what we do and try our best to make a positive impact in our community. We adopted our son in 2021, and we love our family! Our core values revolve around family, respect, and love. We love spending time together, reading books, walking our dogs, being outside, hiking, swimming, cooking, and singing along to Disney songs! Trevor is outgoing and funny; everyone adores him. Jon is sweet and caring and is a really good listener. We complement each other in lots of ways. In the end, we're always there to support each other and have fun together in this adventure of life.
---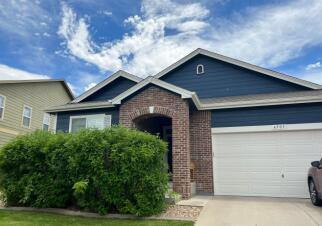 Our Home
Sometimes we can't believe we live in Colorado with sunsets over the mountains and big, open blue skies! We live in a warm and welcoming neighborhood where you'll see kids playing basketball in the streets or families walking their dogs. We live near a community pool with a huge water slide. Trevor's a swim coach, so we're often in the water, learning and playing. Backyard barbecues are a weekly event. We have three doodles who are sweet and great cuddlers. Our house is certainly full!
---
Our Extended Family
We live ten minutes away from Jon's parents, who are loving their new grandparent titles. Zev's godmother and our best friend live close by, and our goddaughter is about to start kindergarten. Zev loves her and is always watching her play. Jon and his family are Jewish, and both his parents are rabbis. Trevor has a very large Dutch Protestant family. Our roots are really important to us. Jon's grandmother is a Holocaust survivor and living in Israel. We recently traveled there with Zev for a big adventure, and she got to meet her great-grandson. We speak English, Hebrew, and Spanish in our home, and one of our core values is appreciating other cultures and beliefs.

We celebrate Christmas, Hanukkah, Passover, and Thanksgiving! We love dressing up for Halloween and having any excuse to take pictures of Zev. (He's really cute and photogenic!) Cousins and siblings from all over the country gather for yearly family reunions, which get bigger and bigger. There was a line to hold our baby at the last reunion. Our family and friends have warmly welcomed our son into our lives and our traditions, and we're forever grateful for their support and love.
---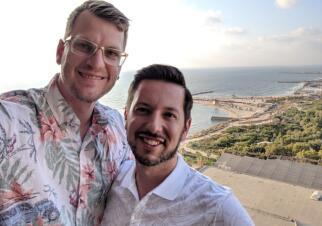 What Led Us To Adoption
Our first adoption journey has changed us forever. We're a blended family now, and every day there is joy and laughter in our home. We've always wanted to grow our family. Trevor was adopted by his grandparents when he was really young, so adoption was always something very important to us. Trevor's identical twin brother has even adopted seven foster children. We have always believed love makes a family. We used to lie awake in bed, picturing ourselves as dads. Now we hope to grow our family even more. Our brothers and sisters were really important as we were growing up, and we want to be able to give Zev that relationship with a little brother or sister.
---
Facts About Jonathan
Occupation:

Adolescent psychiatric nurse practitioner

Religion:

Jewish

Education:

Master of Science of Nursing

Favorite Hobby:

Playing piano

Favorite Sport:

Swimming

Favorite Music Group:

Regina Spektor

Favorite TV Show:

Bob's Burgers

Favorite Book:

Man's Search for Meaning

Favorite Subject in School:

Music

Favorite Vacation Spot:

Japan
Facts About Trevor
Occupation:

High school history teacher

Religion:

Agnostic

Education:

Master of Education

Favorite Hobby:

Word games

Favorite Sport:

Football

Favorite Music Group:

Red Hot Chili Peppers

Favorite TV Show:

Game of Thrones

Favorite Book:

The Sympathizer

Favorite Subject in School:

Social studies

Favorite Vacation Spot:

New Zealand
Contact Jonathan & Trevor