« back to waiting families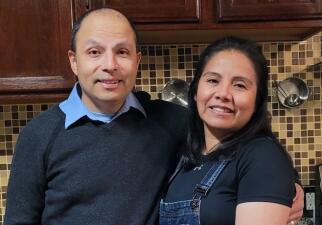 Jesus & Maria
RACE OF CHILD INTERESTED IN ADOPTING:
Caucasian, Hispanic, Caucasian/Hispanic
---
Dear Birthmother,
We love you for the selfless act you're considering. We may not have a clear idea of how difficult this may be to you, but we understand how courageous you are for thinking of the great life your child will have with a lovely couple that will love him or her. We have come to be at peace with the fact that our bodies do not do what we want them to do, which is to have a baby. After several years of trying to have a baby, we stopped, and that is when we realized what God wants for us is to adopt a baby. If you choose us, we will care for your baby with all the love any parent has for their own baby.

We will teach him or her the values that were instilled in us by our hardworking and humble parents. Maria will teach him or her to read, cook, ride a bike, play basketball, and simply have fun. Jesus will teach him or her to bake cakes, go fishing, garden, play baseball, work on cars, work around the house, and so much more. Above all, we will teach him or her to be a person of good morals.
---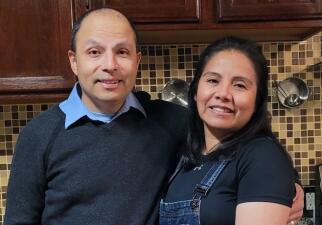 About Us
We are Jesus and Maria. At work, Jesus administers the space inventory of a large university campus and hospital, while Maria operates both vintage and state-of-the-art punch press machines that create essential parts for the medical and automotive industries. How did we meet? We both had a friend in common, Jesus's brother in law. Maria lived in Mexico, so one day he asked Jesus permission to use his phone to call his mom, who was visiting Maria's neighbor. He called Maria and told her there was someone eager to meet her. He handed Jesus the phone, and we spoke for over an hour. We laughed and knew we were meant for each other. On the weekends, we go out to the beach and to parks. We hike, ride our bikes, and we dance everywhere. Sometimes we just like to drive and eat out.
---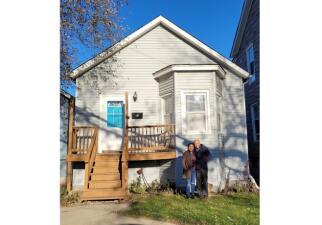 Our Home
We live in the middle of the city in a nice location. We are walking distance from just about everything a child would like. Within a three-block radius from our home are public and private elementary schools, a high school, and a large park with a lagoon and local wildlife. We can go fishing, bicycling, or barbecuing, and a large array of sports are practiced, such as basketball, swimming, soccer, ice skating, and tennis. There is also a farmers market in the park and movie nights in the summer and fall. Our home is a cozy ranch home with three bedrooms, a small front porch, and a larger rear porch. We have a garden where we plant flowers, fruits, and vegetables.
---
Our Extended Family
We both have large extended families, especially Maria. Traditions we carry out with Maria's family involve many outdoor events. We love to gather out in public parks to celebrate birthdays or to simply have a large space to cook out on our barbeque grills. Maria's family has property in Mexico. It is a tradition that all of Maria's family go to Mexico each December to celebrate birthdays, weddings, and quinceañeras.

Jesus's family loves to gather at their summer homes to celebrate birthdays, to celebrate with great pride the Fourth of July, and to gather on the first Saturday of September to carry out some traditional Mexican and American cooking. This is followed by traditional violin folk music that carries into the night. Everyone is there—parents, siblings, grandparents, aunts, uncles, cousins, and close friends. There's a lot of talking, dancing, kids joyfully playing, and everyone laughing. There is never a dull moment at our family gatherings. Another thing we never miss is graduation ceremonies as we love to encourage our young family members about the importance of a good education.
---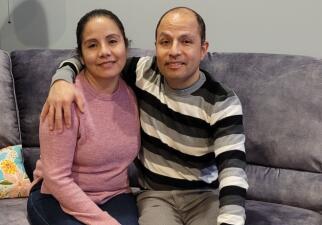 What Led Us To Adoption
After not getting pregnant during our first year of marriage, we visited the doctor and learned we had infertility issues. We were heartbroken at the moment, but then we came to believe God had something else in store for us—adoption! We are eager to be the proud parents of a child we can love, support, and spoil. The several years we have spent trying to get pregnant with failed medical interventions has grown the love we have for each other and has strengthened the love of our desired future children.
---
Facts About Jesus
Occupation:

Administrator of facility information and space management

Religion:

Christian - Catholic

Education:

Bachelor's in electronics

Favorite Hobby:

Handyman house and car

Favorite Movie:

The Lord of the Rings, Back to the Future

Favorite Sport:

Basketball, baseball, football

Favorite Music Group:

Green Day

Favorite TV Show:

The Big Bang Theory

Favorite Subject in School:

Architecture

Favorite Vacation Spot:

Cancun, Europe, Church of the Nativity
Facts About Maria
Occupation:

Punch press machine operator

Religion:

Christian - Catholic

Education:

ESL

Favorite Hobby:

Listening to music

Favorite Movie:

Karate Kid, The Fast and the Furious

Favorite Sport:

Basketball

Favorite Music Group:

Cindy Lauper, RBD

Favorite TV Show:

Seinfeld

Favorite Subject in School:

Math

Favorite Vacation Spot:

Bethlehem - Church of the Nativity