« back to waiting families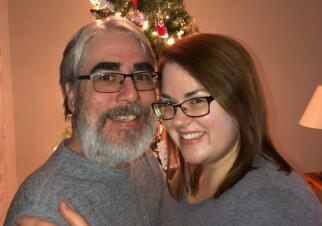 Jessica & Jim
RACE OF CHILD INTERESTED IN ADOPTING:
Caucasian
---
Dear Birthmother,
Dear Expectant Mother,

Thank you for considering an adoption plan for your child. It takes such courage and strength to make this decision. We are loving and nurturing individuals who want to raise and support a child to believe in themselves and have all of the tools to succeed in life in whatever they choose to do. We promise your child will be surrounded by love daily from us, our families, and our friends.

When we picture our lives with a child, we see going to the neighborhood park on a nice day; enjoying a baseball game at the ballpark; listening to local live music down the street in the summer; helping solve tough homework problems; having family barbeques to see their grandma, grandpa, aunts, uncles, and cousins; reading a bedtime story before falling asleep; and exploring anything that might interest them! We envision so many fun and memorable experiences!

If you feel we are aligned with you and your plan, we very much look forward to meeting and growing a connection with you and hope to have a strong relationship moving forward. We feel so blessed to be able to go through the adoption process along with you. Thank you for your time and reading our profile! We wish you all of the best in making the decision that is right for you!
---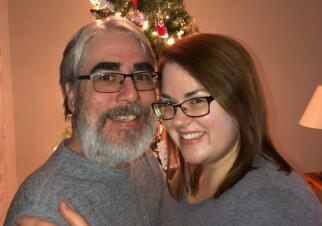 About Us
We met when we were both working at the same store. Jim proposed exactly two years later in that store's parking lot in the same spot we shared our first kiss. We were married in 2019 during an intimate ceremony surrounded by our families. Jessica works at a commercial insurance agency and has her state insurance license. In her free time, she loves to curl up on the couch with a good book, tea, and our two pugs in her lap.
Jim works at a retail store as a shift lead. He is loyal and hardworking, and he enjoys watching all types of sports. On Sundays, we enjoy long drives while exploring nearby towns. We also love traveling and finding hidden treasures on road trips. In the summer, you will find us attending many concerts and music festivals. Our favorite is Summerfest in Milwaukee.
---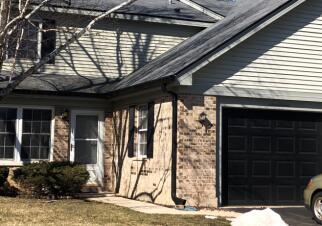 Our Home
When we bought our three- bedroom townhouse almost three years ago, we chose a family-friendly neighborhood that is right across the street from a little park and pool. What drew us to this neighborhood is that the school system is really good and the high school is top rated in the county. The local library is within walking distance. We live between two major cities that have many fun family activities available, such as museums, zoos, botanic gardens, and sports. We have two pugs, Prudence and Lucy, who are so much fun to be around and have loving personalities. When we are relaxing in the evening, they love to cuddle and be near us.
---
Our Extended Family
Our families have been extremely supportive and encouraging throughout our adoption journey. We make family time a top priority in our household and truly cherish that time together.

Jessica's immediate family includes her parents, two sisters, one brother, their significant others, and a one-year-old nephew. Jessica's nephew is also her godson. We are a very close family, and most live within 30 minutes of each other. Jessica's youngest sister actually lives in our neighborhood and is only a five-minute walk from our house. Jessica and her sister enjoy meeting up for a walk to catch up and chat.

Jim's immediate family includes his parents, sister, brother, brother-in-law, and 17-year old niece. We all get together a few times a year for holidays and summer barbeques. Since Jim's parents live in Mississippi near Memphis, we take a road trip to visit them once a year and enjoy Gus's Chicken and minor league baseball together. We also have get-togethers with cousins where we do fun outings like football games a couple of times a year.
---
What Led Us To Adoption
Our dream is to be parents, but have been unsuccessful in conceiving a child. We feel adoption is the way to fulfill our dreams. We are excited to raise a child and start our family. We have lots of love to give! We are looking forward to supporting a child throughout their lives, from infant to adult, and are excited about all those steps in between. Family is important to us, and we are looking forward to adding a child to complete our family.
---
Facts About Jessica
Occupation:

Administrative assistant

Religion:

Christian - Catholic

Education:

Associate degree

Favorite Hobby:

Reading, yoga, crocheting, walking, baking

Favorite Movie:

Love Actually, Dirty Dancing

Favorite Sport:

Football, baseball, hockey

Favorite Music Group:

The Beatles, Hozier, Ashley McBryde

Favorite TV Show:

Schitt's Creek, New Girl, Friends

Favorite Subject in School:

Fashion

Favorite Vacation Spot:

Italy
Facts About Jim
Occupation:

Shift lead

Religion:

Christian - Catholic

Education:

Bachelor's degree

Favorite Hobby:

Sports, fantasy sports, travel

Favorite Movie:

Bull Durham, Cool Hand Luke

Favorite Sport:

Baseball, bowling, football

Favorite Music Group:

Chicago, Drew Holcomb

Favorite TV Show:

The Goldbergs, Shameless, Highway Through Hell

Favorite Subject in School:

Math

Favorite Vacation Spot:

Visiting cities for baseball