« back to waiting families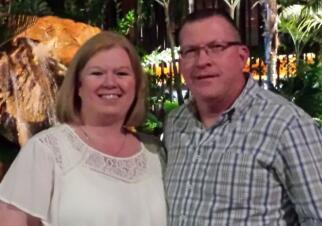 Jacquie & Chris
RACE OF CHILD INTERESTED IN ADOPTING:
Caucasian, Hispanic, Caucasian/Hispanic
---
Dear Birthmother,
Dear Expectant Mother,

There are so many emotions that go into this. We're sure we share a lot of the same ones, just for different reasons. We have tears in our eyes as we write this. We can't imagine how hard this has to be for you. You are truly the bravest person we know. We hope it will give you peace to know your sweet baby has been wanted and prayed for and is already loved. You are amazing, and should you choose us, we plan to tell your baby just how selfless their mom is.

We will raise this baby with love, guidance, encouragement, and patience and will help them become the best they can be. We have dreamed of the day we could hold a baby in our arms and call them ours. Please know you will make our dreams come true if you choose us. We hope you can see we are regular people with a lot of love to give.
---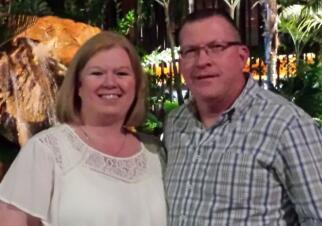 About Us
We are very easygoing people. Jacquie is funny, caring, and smart and loves with all her heart. Chris is so strong, hardworking, and loving and always there for us. Jacquie has been in the medical field for about 25 years. She has worked as a nurse aid, a secretary, and now a medical assistant. Chris has worked in retail for over 30 years. He is the manager everyone wishes they had. Jacquie likes music, games, and spending time with family. Chris likes to be outdoors, working in the yard or playing sports. He enjoys all kinds of sports, video games, and anything sweet. We love to go on vacation and see and do new things. We love amusement parks, swimming, and watching movies. We also love Halloween. We have turned parts of our house into a haunted house in the past. It's been so popular we have been in the paper.
---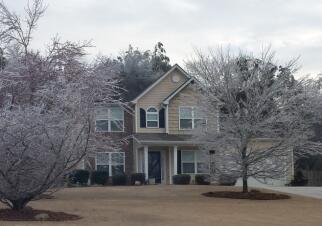 Our Home
We moved from Florida to Georgia 16 years ago. We live in a two-story home. It has three bedrooms, two and a half baths, and a bonus room. We have a large fenced-in backyard. Our neighborhood is large with a lot of kids of all ages. It is a very family-friendly neighborhood with families walking and riding bikes. Our schools are some of the best around. We have a very sweet dog named Max. He is a gentle giant who loves to snuggle.
---
Our Extended Family
We both come from large families. Most of our family members live up north. Jacquie's parents were married almost 52 years before her dad passed away. She has always been close with her mom, and she got her love of helping people from her mom, who was a registered nurse. She has two older sisters and one older brother. Jacquie and her sister, who lives near us, are very close. They get together and will laugh about anything. Their laughter is contagious.

Chris's parents, younger brother, and sister live in Florida. We love going there to visit. We spend our time talking, grilling, and swimming. We go on vacation with our families too and have been to amusement parks, white water rafting, and even swimming with dolphins. Between us, we have 12 nieces and nephews and one great-nephew.
---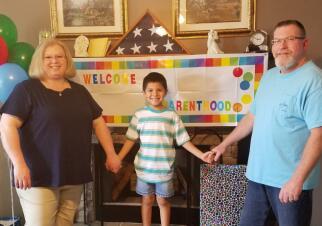 What Led Us To Adoption
We found out very early in our marriage we couldn't have biological children. We had tried everything, and many years later, we truly felt God was leading us toward foster care and adoption. We met our son through foster care over two years ago. There was an instant connection between all of us. Adoption day was filled with so much love, and we can't wait to grow our family more. Our son can't wait to be a big brother.
---
Facts About Jacquie
Occupation:

Certified Medical Assistant

Religion:

Christian

Education:

College graduate

Favorite Food:

Chicken, steak, seafood, bread, most vegetables

Favorite Hobby:

Video games, reading, playing with our son

Favorite Movie:

The Wizard of Oz, Dirty Dancing, Titanic, Saw, Rock of Ages

Favorite Sport:

Basketball, swimming, baseball

Favorite Music Group:

Reba, Cher, Poison, Whitney Huston, Bruno Mars

Favorite Subject in School:

Math, science

Favorite Vacation Spot:

Alaskan cruise, Hawaii
Facts About Chris
Occupation:

Produce manager

Religion:

Christian - Catholic

Education:

High school graduate

Favorite Food:

BBQ, steak, fruit, sweets

Favorite Hobby:

Sports, yard work, video games, playing with our son

Favorite Movie:

Halloween, Friday the 13th, Dumb and Dumber, The Quiet Place

Favorite Sport:

Football, soccer, baseball, wrestling, basketball

Favorite Music Group:

Motley Crue, Metallica, Guns 'N' Roses, ZZ Top

Favorite Subject in School:

Math, mechanics

Favorite Vacation Spot:

Niagara Falls