« back to waiting families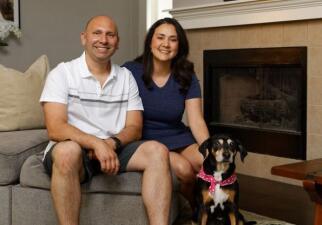 Erica & Eddie
RACE OF CHILD INTERESTED IN ADOPTING:
Any
---
Dear Birthmother,
Dear Expectant Mother,

We were married in 2016 and quickly began trying to start a family. Unfortunately, infertility issues, including two miscarriages, have prevented us from having children on our own. While our journey has been difficult, it has made our relationship stronger. We always knew we wanted to expand our family through adoption. After much consideration and praying, we felt in our hearts that this was the right moment.

We are both very grateful and honored you are considering us as adoptive parents. We realize this journey is difficult for you and fully respect your brave and selfless decision in choosing an adoption plan. Please know your child will be truly cherished, loved, and cared for. We will provide them with all their needs, including a good education, a safe home, and an environment where they will be nurtured.

We are excited to share many experiences with your child, such as watching Disney movies together, reading books before bed, playing on the swingset at the park, cooking with the family on Christmas Eve, going on family vacations to Disneyland to ride Dumbo, making s'mores on camping trips, and building sandcastles at the beach.

Please know you will always have a special place in our hearts and our family. You're not only bringing love and life to your child but bringing joy to our family. Thank you for your time and consideration. No matter what you decide, we wish you all the best.

Sincerely yours,
Eddie and Erica
---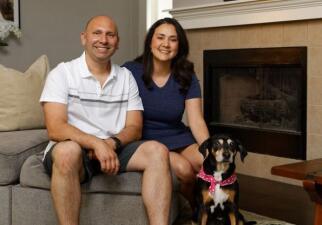 About Us
We met on a blind date set up through a mutual friend in 2012. We dated for four years and experienced new adventures together. We went ziplining and camping and ran a half marathon together. We also spent hours on the couch drinking tea and sharing stories of our pasts as well as our hopes and dreams for the future. In October 2016 we tied the knot. We both enjoy our time together as well as our separate careers. Eddie joined the Air Force after high school and has been in ever since. Erica is a manager for a financial company where she started as an intern in college. We enjoy spending time with our family and friends, traveling, and working out together. We continue to grow as a couple, learning new things about each other and making the best of every day.
---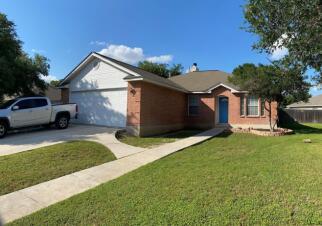 Our Home
We live in a family-friendly neighborhood with plenty of parks and an excellent school district. Our home is a three-bedroom house located on a safe cul-de-sac, which we chose with future children in mind. We have a nice backyard with plenty of space to build a playground and room for your child to play. We have two pets, a cat named Leo and a friendly beagle mix dog named Roxy. We're excited to take our child to the places we enjoyed growing up, like the local zoo, museums, and theme parks.
---
Our Extended Family
We both have very close and tight-knit families who are very supportive of our journey to adopt. Eddie has four older sisters in California, with nine nieces and nephews, while Erica has one older and one younger brother. We have both experienced the loss of our fathers, but despite these tragedies, we both have our mothers, who are extremely excited to be grandmothers.

We are also very close with our extended families (aunts, uncles, and cousins). We normally get together as a family to celebrate birthdays, holidays, and reunions. We look forward to sharing with your child our traditions of baking cookies and making tamales at Christmas, game nights with our brothers and sisters, and listening to family stories.
---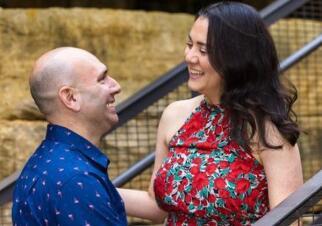 What Led Us To Adoption
While we were dating, we both shared the same dream of expanding our family through adoption. It wasn't a matter of if we would adopt but rather when the time would be right. The challenges of conceiving on our own have been difficult but have made us a stronger couple. We both know in our hearts that our next journey together is to adopt. We're very excited to open our hearts and our home to a child.
---
Facts About Erica
Occupation:

Manager

Religion:

Christian - Catholic

Education:

Bachelor's degree in finance

Favorite Hobby:

Yoga, cooking

Favorite Movie:

13 Going on 30, Sense and Sensibility

Favorite Sport:

Volleyball, basketball

Favorite Holiday:

Christmas

Favorite Music Group:

Creed, Michael Buble, Celine Dion

Favorite Book:

The Things We Carried

Favorite Subject in School:

Algebra, pre-calculus, chemistry

Favorite Vacation Spot:

Paris, Fiji
Facts About Eddie
Occupation:

Training manager

Religion:

Christian - Catholic

Education:

Some college

Favorite Hobby:

Woodworking, working out

Favorite Movie:

The Shawshank Redemption, Saving Private Ryan

Favorite Sport:

Football, golf, bowling

Favorite Holiday:

Memorial Day, Christmas

Favorite Music Group:

Elton John, Garth Brooks

Favorite Book:

The Kite Runner, Robert's Ridge

Favorite Subject in School:

History, anatomy, literature

Favorite Vacation Spot:

Fiji, Galapagos